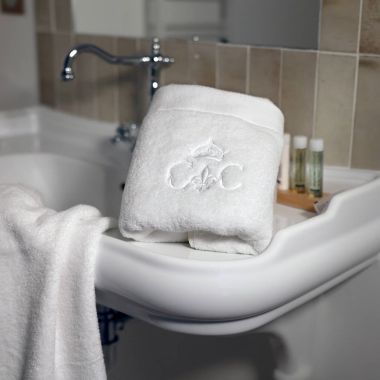 Chambord x Garnier-Thiebaut
The Garnier-Thiebaut company was born in 1833 from the marriage of two linen weavers (Virginie Thiebaut and Jean-Baptiste Garnier) in Gérardmer, a small village in the Vosges built on the edge of a lake.
The region's water was ideal for bleaching linen, and soon Garnier-Thiebaut was renowned for its strong, shiny products.
190 years later, the company has preserved its family spirit and the authenticity of yesteryear.
From yarn selection and weaving, to the creation of colors by our master dyers, or exclusive patterns and designs by our designers, our teams work with passion to create tomorrow's linens while respecting this heritage.
Thanks to this historic know-how, Garnier-Thiebaut supplies numerous establishments on five continents, starting with the majority of French palaces. Garnier-Thiebaut also creates capsule collections with some of the world's most iconic establishments, such as the Château de Chambord.
For the Chateau de Chambord collection, Garnier-Thiebaut has maintained a classic, uncluttered style, creating an elegant aesthetic balance with the rich architectural details of the chateau.
Jacquard-weave tablecloths, exquisitely soft bathrobes and hemstitched napkins complete this elegant collection, where one detail stands out: discreet, finely positioned embroidery.